In our mission to train young men and women to take the gospel into the world, a need has arisen; our students need a new place to live while they train. Last year, the apartments where the AIMers lived were sold, and the new owners have significantly raised the rent. We were paying $82,360 a year (this included utilities) for 12 units for our students. This was a significant discount because the previous owners were members of the church, and they saw it as their way of partnering with AIM. We are now paying $104,400 a year plus utilities, and the new owners are raising the rent to $116,000 next year.
Partner with AIM as we seek to build permanent housing for our students! This would put AIM in a place where we don't have to negotiate prices every year, allow us to have AIMers in a safer location, and prevent us from giving away money year after year. With rent going up, it's time to have a permanent location.

We were blessed to purchase a property within one mile of the Sunset Church of Christ. This is a step of faith. Presently the land on 39th Street and Salem Avenue has been cleared, and we are waiting for the plans and permits to be finalized. We should break ground at the beginning of June. It should be completed by April 2024. The cost should be about $4.5 million. It will have 20 units that will allow us to have classes of 80 students.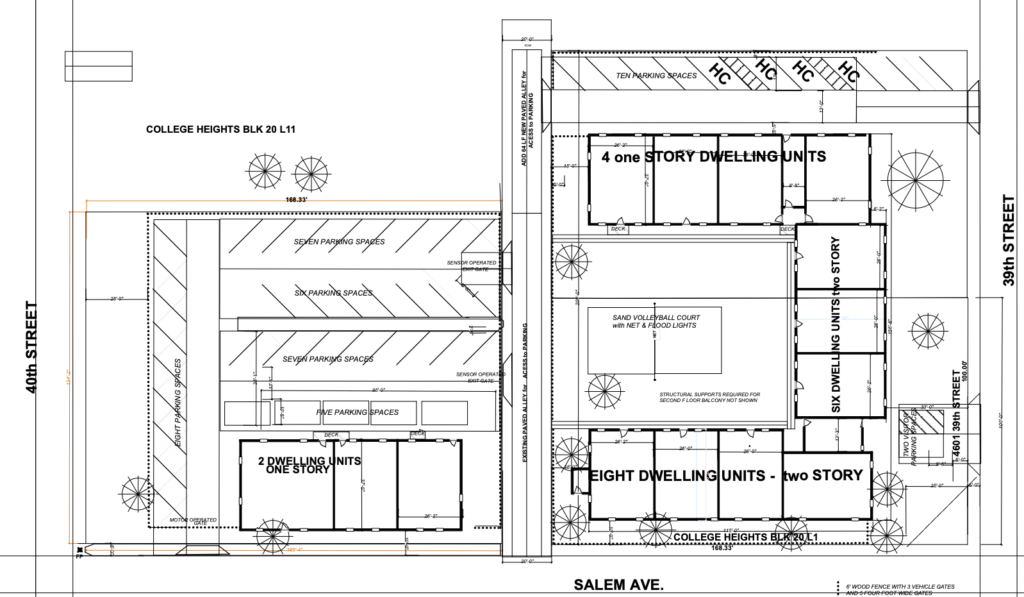 Update for 10/2/2023
AIM has the practice of praying every day at 10:02 AM for the Lord of the harvest to send forth workers into the harvest field (Luke 10:2). This practice started out small, and now thousands of people pray to the Lord of the harvest at 10:02 AM. Raising up more workers for the harvest aligns perfectly with what AIM is all about. So, I'm excited to see what God has in store for us on October 2nd.
On October 2nd, that's 10/2, at 10:02 AM we are seeing if we can have 102 alumni give toward permanent AIM housing. Can you give $10.02? What about $102? Some may be able to give $1002. Others may be able to give more. The amount really doesn't matter. What does matter is having as many AIM Alumni on board as possible as we continue to raise up lifelong workers for the harvest. I pray you'll join us. A big task is easier achieved when more people are involved. I look forward to seeing how many alumni join together to do something big for the kingdom.
Please commit to join us in prayer on 10/2 at 10:02 AM as we ask the Lord of the harvest to send more workers into the harvest fields.
We will send another email before 10/2 with specific instructions for how to give.  We will also let you know how we did on 10/3. We encourage you to make sure you've joined the AIM Alumni (official) Facebook Group too.
---
Mail checks to Adventures in Missions with a note designating it to AIM Housing Project. You can also give online and choose to fund the AIM Housing Project.
Still following,
Cory Burns
Director, Adventures in Missions
Sunset International Bible Institute
3723 34th Street
Lubbock, TX 79410